An unlikely model for a more humane debate on abortion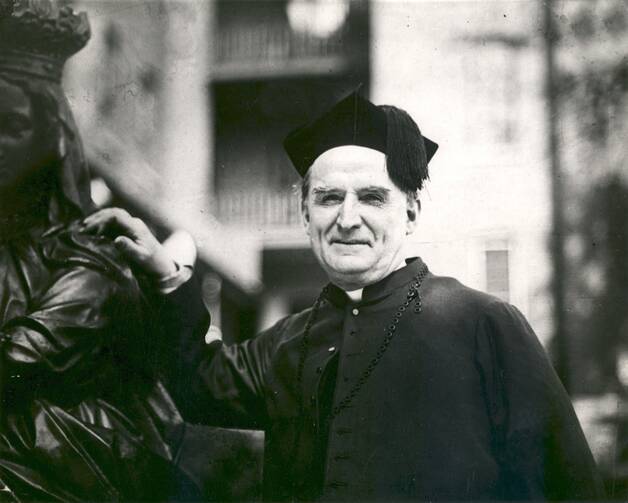 In the summer of 1869, a 27-year-old Buffalo businessman and veteran of the Battle of Gettysburg boarded a steamer and embarked on a week-long visit to the shores of Lake Erie. Like many others his age before and since, Nelson Henry Baker was looking for someone or something to give meaning and direction to his life. By the end of the summer, he knew what it was: he wanted to be a priest.
The following fall, Nelson Baker entered the seminary in Buffalo. During a pilgrimage to Europe with his fellow seminarians, he had a profound spiritual experience at the sanctuary of Notre-Dame des Victoires in Paris and immediately resolved to return to his native town and spend his life in its service. What followed was a stunning and pioneering six-decade apostolic career that rivals the earthly accomplishments of our greatest saints. In Lackawanna, NY, just south of Buffalo, Father Baker built what amounted to a small "charity town" – a network of hospitals, schools, orphanages and other social services that his time, served tens of thousands and thousands of people. even more today.
Father Baker didn't just act to save infants' lives; he also worked to save the lives and reputations of mothers.
I visited this Baker-ville and its one-of-a-kind French Rococo Minor Basilica the week after learning that the United States Supreme Court is likely to overturn Roe v. Wade, the case that established a constitutional right to abortion. One would think that this story, and the hotly contested debate it sparked, are light years away from Father Baker's America, that his time has little to say about ours. And yet, a significant part of its history suggests otherwise.
In the spring of 1906, Father Baker began reading newspaper accounts of babies who had been abandoned, including "the remains of over two hundred cubs…found in various stages of decomposition" in the Buffalo area. His biographer describes his response: "Mortified by such wanton destruction of life, Baker, always a man of action, knew something had to be done. He quickly created a home where mothers could leave their babies anonymously, no questions asked. But Father Baker didn't just act to save infants' lives; he also worked to save the lives and reputations of mothers. "Our motive has been, whatever the experience," he wrote, "to protect the unfortunate young mother and her family, and to save the life of the child."
Nelson Baker then quickly recognized two realities, one of which is generally overlooked in conversations about abortion, then and now. Father Baker was rightly horrified by the intentional murder of these vulnerable human beings. And he was also rightly horrified that he lived in a world where women could be pushed to such extremes. In his revulsion, Father Baker could have hardened his heart and turned against these mothers in self-righteous rage. Instead, he offered them the same compassion that had broken his heart reading reports of their babies, believing that any woman who could summon the will to override her primal maternal instinct and take her child's life must have been someone in dire straits. , someone as worthy of our mercy as were his children.
We need less controversy and much more compassion, especially that which Venerable Father Baker puts into action.
The debates on abortion today are too often polemical, impersonal, insensitive. Too many people on both sides resort to name-calling, uncharitable hyperbole or cruel caricatures. Pro-choice people are called "baby killers." Pro-lifers are said to be "waging a war against women". Neither charge is fair, helpful, or humane. "What is most needed in the public debate on abortion," the editors write in this issue, "is an honest moral examination of the two goods that are in tension when a woman faces a pregnancy that she feels she cannot go on: her bodily integrity and the personal autonomy and dignity of the unborn life which depends entirely on her.
Another way to say that? We need less controversy and much more compassion, especially that which Venerable Father Baker puts into action. What began as a home for infants abandoned by their mothers soon became a maternity hospital, where single or struggling pregnant women could be cared for safely and anonymously. In time, this became Our Lady of Victory Hospital, which served the people of Lackawanna – men, women and children – for more than 80 years.
All of this happened because Father Baker opened his heart and mind to the people around him, a choice that also set him on the path to holiness. In writing to the benefactors of his Home for Infants and Mothers, Father Baker often included this phrase: "The spirit of charity will surely save countless souls.
He could have added: "Starting with yours.