Tammy Kikuchi's journey from news anchor to Asian-American model at Murray Town Hall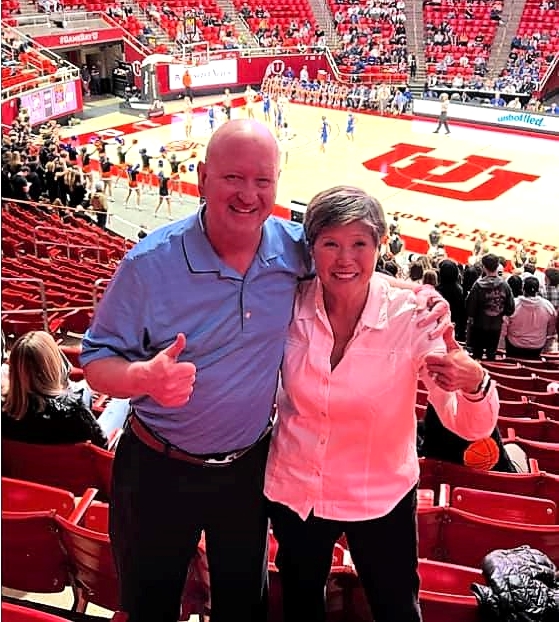 By Shaun Delliskave | [email protected]
For many, her voice was a trusted source of information, and for others an example in their community, but now Tammy Kikuchi serves her hometown. In January, the former KSL reporter became Murray City's communications director when Brett Hales was sworn in to the mayor's office.
Kikuchi was known to thousands of radio listeners as one of KSL radio's legendary reporters in the 1980s and 1990s. She shared the airwaves with Jane Clayson, Craig Bolerjack and Amanda Dickson.
"During my freshman year at the University of Utah, I was lucky enough to get an internship with KSL Radio, working under Doug Miller of KSL Outdoors fame," Kikuchi said. "After the internship, I was offered a job as a full-time reporter while continuing to complete my studies full-time. It was a busy time. Eventually I was given the weekend night shift job and reported three days a week. Switching from nights to days each week was difficult. Eventually, I got a day job from 6am to 3pm.
Communication is in Kikuchi's blood as she has not only been on the air or a public information officer, but her family has also served as hosts.
"My father worked in a radio station; I think it was KMUR in Murray. That was a long time ago, and he shot hits from the Big Band era. He had a great set of hits, a deep voice that was perfect for radio. I inherited his deep voice and was often told I should work in the media, which led to my major in journalism and communications at the University of Utah," Kikuchi said.
KSL put it on TV while it was on radio, and listeners became viewers. Kikuchi's face became associated with the voice.
"At that time, KSL was trying new things and asking radio reporters to work as TV reporters as well. It was fun and challenging, but it meant days often started at 6am but didn't end until 11pm. When another job fell into my lap, I knew it was time for a career change," Kikuchi said.
During his time at KSL, Kikuchi was something of a rarity, a person of Asian descent spreading the local news. Nationally, at the time, there were Asians, like Connie Chung and Tritia Toyota, who viewers knew well, but in Utah, Kikuchi was a first.
"I think I was the first Asian face on local TV news," Kikuchi said. "For the first 10 years at KSL, I was on the radio and no one knew my 'TV face'. I could work and move around anonymously in the community, which was great because I'm quite a reserved person. But with TV, things changed. I knew people would mumble behind my back when they recognized me, which isn't surprising since, overall, there wasn't a lot of Asians in Utah It was downright uncomfortable because I liked going to the grocery store in flip flops, shorts and a t-shirt.
After completing enough 18-hour days, Kikuchi transitioned to a public information officer. She served as spokesperson for Governor Jon Huntsman with major government agencies such as the Utah State Tax Commission, Department of Natural Resources, Department of Health, and West Valley City.
"PR and marketing are often referred to as the 'dark side' by journalists. But it's also kind of a natural transition for journalists. When a marketing position fell into my lap, I jumped up and for nearly 30 years worked as a marketing professional or government public information officer. I miss the news whenever there is big news or during elections. The teamwork that must occur at these times is exhilarating. But I like having a more normal schedule," Kikuchi said.
So how did Murray City end up with an accomplished and experienced public information officer?
"Honestly, this opportunity fell into my lap. These are usually the best things of my life. I met Brett and his wife, Cindy, when he was campaigning. He was bringing a sign to the lawn. We talked for a good time, and there was an instant level of comfort and familiarity. We've spoken many times before, and after he was elected, I was thrilled when he offered me the job," Kikuchi said.
Kikuchi has finally come full circle. She grew up in Murray, attended Murray schools, bought a house in the city, and was the voice of her hometown.
"I always wanted to work for Murray City," Kikuchi said. "It's ironic that I'm back at Murray. Previously, when I lived in Salt Lake City and met classmates who still lived in Murray, I was like, "Make a living." But I'm here.